Where to Dine during a St Tropez Superyacht Charter
A splash of sun, pristine sandy beaches, long tropical cocktails and designer boutiques to die for make St Tropez the hottest spot in the Mediterranean for a superyacht charter. This prestigious playground for the rich and famous has served to mark the dazzling French Riviera on the map and with its lashings of glitz and glamour it's easy to see why.
You can stretch out on sugar coated sands beside celebrities at the stunning Plage Port Grimaud, get sticky on the dance floor at the VIP club Les Caves du Roy, and of course spend the hour's in-between racing in fast cars and lounging in style on your luxury charter yacht. French cuisine has always been revered as simply fabulous and in the French Riviera you can truly indulge in la crème de la crème.
To guide you on your next trip to St-Tropez, Captain Sputh of motor yacht STARFIRE, a 178' Benetti superyacht available for charter in both the Mediterranean and Caribbean Sea, curates these divine restaurants to ignite your senses in the glorious St Tropez.
Club 55
Gorgeous cream canopies, chic bamboo and beds on the beach make Club 55 a vivacious spot to stop for lunch and a spot of people watching. Every celebrity who has ever swung by St Tropez will have dined beneath the shade here, lounging on the chairs, soaking up the atmosphere and swishing a glass of vintage wine. Oysters glisten next to wooden mezze platters and the artichoke appetizer is world class. With the beach being right on your diner's doorstep you can digest with fresh ice cream and handpicked berries beneath your parasol and watch the beautiful people pass by. Club 55 is always a favourite with STARFIRE's charter guests.
Reservations: +33 (0) 4 94 55 55 55
Nikki Beach
With its shimmering cool blue pool, decadent lounge areas, flowing chilled champagne and achingly jetsetter vibes, Nikki Beach wears the crown when it comes to royal beach clubs that must be graced. This is the place to showcase designer swimwear, peek at the world from under designer sunglasses and graze on evocative and innovative dishes. Stunning sushi boats, fresh caviar and sweet tiger shrimps are just a few of the fabulous specials to share on offer. Leafy vegan salads and classical Nicoise, means that there is something for everyone beneath the sun flooded sky of Nikki Beach.
Reservations: +33 (0) 4 94 79 82 04
Bistro St Tropez
When the world gets a little hectic you can duck into the calming Zen of the beautifully simple Bistro in St Tropez. White orchids, a chilled ambience and a divinely fused menu make the experience a gentle breeze on sweltering afternoons and as the stars come out, Bistro manages to pick up the pace to match. The creamy foie gras with sweet sticky roasted figs makes for a royal starter, picking through delicate sushi is a great way to treat your taste buds and of course finish with the final finesse of red berry macaroons.
Reservations: + 33 (0) 4 94 97 11 33
L'Opera
Al fresco dining has never been so beautiful then when you manage to bag a table out on the terrace of L'Opera. From swaths of white, the chinking of silver and polished wood surroundings you can admire inspiring views of the Bell Tower and the yachts in the port. Inside forties style décor brings a dash of Gatsby style delight and the Provencal dishes and foie gras are melt in the mouth amazing. Cabaret shows, lashings of Bollinger and an upmarket clientele set the scene for a night of fun with fire eaters, lively violinists and watching the sunset touch down on the lush Mediterranean waters.
Reservations: +33 (04) 94 49 51 31
st-tropez PHOTO TOUR (46 Pictures)
Article by: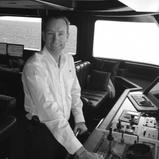 Superyacht Captain, Starfire Yacht
The Captain, Maestro, and Keeper of STARFIRE
STARFIRE's Captain was born into yachting. His first words were "Danforth Anchor". Carl, his Dad and his Brother have a combined 840,000 nautical miles as Men of the Sea.
View Profile