Top Ten Anchorages in the South of France
The South of France is a popular holiday luxury destination and one best explored by sea. Head by superyacht from west to east to experience a fascinating adventure of inspiring landscapes, beautiful architecture, culinary delights and some of the world's best wines, all under the warmth of the Mediterranean sun.
With his extensive knowledge of creating unforgettable superyacht vacations, Captain Carl Sputh of the 54m/177ft Benetti motor yacht STARFIRE compiles ten of the best spots in the South of France, ready for you embark on your next summer yachting adventure.
Pampelonne Beach
For more luxurious beach time, head to Pampelonne Beach next, where the expansive stretch of sand provides room for everyone to relax in secluded comfort. Snorkelers and divers can spend hours exploring the steep rock formations that plunge into the sea, discovering fish, crabs and all sorts of other marine life beneath the waves. If you prefer to be amongst the SuperyachtSet, Pampelonne will surely deliver.
Isle De Hyeres
A group of four Mediterranean islands just off Hyeres, you might consider yourself in paradise upon arriving at Isle De Hyeres. Dedicate plentiful time to doing nothing more than enjoying the clear waters, white sands and darting fish while swimming and snorkelling to your heart's content.
St Tropez
For a more glitzy experience, anchor off St Tropez to soak up the celebrity culture and artistic haven that the town combines. Tour the galleries to pick up a painting or two, or stick to the water for a day of windsurfing or canoeing. Jet bikes and water skiing are also available for those in search of more adrenaline-packed thrills.
Theoule-Sur-Mer
Anchor just off of Theoule-Sur-Mer next and spend the day enjoying the true old-world charm that France has to offer. Explore the pretty town on foot and dedicate your time to a combination of relaxation on the stunning beach and gorging on freshly baked bread, gooey cheese and local wines.
Cannes
Head to the busy resort of Cannes for a day of seriously indulgent shopping and fine dining, as you explore this unashamedly hedonistic town. Visit during the annual Cannes Film Festival to rub shoulders with the great and the good of the cinematic world or during the Cannes Festival de Plaisance to mingle with a nautical crowd.
Article by: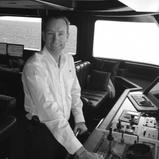 Superyacht Captain, Starfire Yacht
The Captain, Maestro, and Keeper of STARFIRE
STARFIRE's Captain was born into yachting. His first words were "Danforth Anchor". Carl, his Dad and his Brother have a combined 840,000 nautical miles as Men of the Sea.
View Profile