Insider's Tips on Chartering a Superyacht in Malta
Malta's geographical local has ensured that it has played an important role as a naval base and trading port throughout history. These days, it is also the perfect playground for those chartering a superyacht, offering a host of attractions for those enjoying the luxury lifestyle.
Perfectly placed between Europe and Africa, Malta evinces a captivating combination of the two cultures, alongside some incredible old world architecture that will fascinate visitors and make them keen to know more of this delightful Mediterranean country. To guide your next Maltese charter, Captain Sputh of MY STARFIRE, a 54m/178' luxury superyacht, gives you his insider's tips.
Essential experiences
Those chartering in Maltese waters should begin at the country's northern tip, where the Baia Beach Club offers the ultimate in indulgent experiences. From yoga to spa treatments under the open skies, the emphasis is on relaxation and serenity, while the restaurant's menu serves a selection of delicious, contemporary seafood dishes.
Head around the coast to Mellieha next, where a selection of exclusive resorts offer all manner of temptations, from golden sands, to crystal clear waters to the fabulous cocktails on offer at Mambo Beach Club.

Southern delights
Moving on to Malta's southern coast, be sure to take in the pretty fishing village of Marsaxlokk, with its stunning church and incredible range of fish restaurants, which make it the perfect place for an afternoon of exploration and soaking up the local culture.
While in the area, the Hagar Qim Neolithic temple at Qrendi, which is one of the oldest religious sites on the planet, is also well worth a visit. The Ghar Dalam cave at the neighbouring town of Birzebbuga is also essential viewing, with a fascinating history that is sure to delight visitors of all ages.
Drop anchor and indulge in a lengthy al fresco meal on your superyacht for a dining experience with one of the world's most impressive views.
From the sea
Malta also offers a range of delights that are best enjoyed from the sea, including the stunning cliffs at Dingli, which rise majestically from the water, reminding all those who view them of the exquisite grandeur of nature. Drop anchor and indulge in a lengthy al fresco meal on your superyacht for a dining experience with one of the world's most impressive views.
Bio: Captain Carl Sputh spends the majority of his time at the helms of the 52m/178' MY STARFIRE. When ashore, he enjoys travelling the world, driving his custom Triumph motorcycle and learning to fly helicopters.
Take a look at our full guide and photo tour for Malta to see what else this stunning charter destination has to offer.
malta PHOTO TOUR (28 Pictures)
Article by: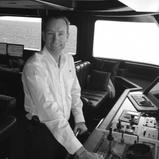 Superyacht Captain, Starfire Yacht
The Captain, Maestro, and Keeper of STARFIRE
STARFIRE's Captain was born into yachting. His first words were "Danforth Anchor". Carl, his Dad and his Brother have a combined 840,000 nautical miles as Men of the Sea.
View Profile