Discover Croatia's Beauty Hotspots
By uniquely fusing modern cosmopolitan glamour with traditional authenticity and breath-taking natural beauty, Croatia continues to be one of the most sought-after luxury charter destinations this summer.
Although Croatia's popularity amongst the superyacht set shows no signs of slowing down, the region has successfully managed to maintain its cultural identity and scenic treasures that have made it so appealing. The region is possibly best-known for its spectacular stretch of Dalmatian coastline, peppered with some of the best beaches in the East Mediterranean and an array of sea-front villages, chic bars and world-class restaurants. However, with more than 1000 islands to choose from, there are still countless treasures to be explored.

Korčula
The island of Korčula is certainly one of Croatia's cultural highlights, combining a hint of Dubrovnik chic with an abundance of natural beauty. Its medieval old town of Korcula is squeezed onto a peninsula, lined with beautiful grid of marble streets and impressive ancient architecture. Stop-off here at one of the cafés along the tree-lined promenade before heading south to the secluded beaches and quiet coves along the coast.
Mali Losinj
For rest and relaxation, the northern island of Mali Losinj has it all. Its location has made it a prominent marine centre, whilst its varied landscape offers everything from flora and fauna-filled gardens to Venetian architecture lined towns. The island is densely forested, the emerald green reflected in the astonishing waters which lap the beautiful bays, perfect for a restorative swim.

Pag
Over the past few years, the rocky island of Pag has been building a reputation as the Med's newest party hotspot. Away from the bars and night time revellers is some of the most uniquely beautiful scenery in Croatia as well tumbling hills filled with vineyards and olive trees. The island is renowned for its speciality cheeses and oils and is a perfect charter itinerary stop-off for foodies looking for delicious local produce.
Hvar
Arguably the best known island in Croatia is Hvar, a long-time favourite of the world's elite travellers. Head into the Hvar town centre to join the designer party crowd and wander the cobbled streets winding past beautiful architecture mixed with chic bars and boutiques. The island is also popular with adventure travellers looking to step of their luxury yacht and enjoy anything from mountain-biking and sea-kayaking to hiking through the famous lavender fields.
If you're interested in creating your very own itinerary amongst these stunning islands, see all of the yachts available for Croatia crewed charter vacations for the upcoming summer season.

Article by: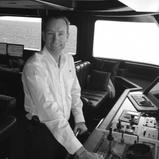 Superyacht Captain, Starfire Yacht
The Captain, Maestro, and Keeper of STARFIRE
STARFIRE's Captain was born into yachting. His first words were "Danforth Anchor". Carl, his Dad and his Brother have a combined 840,000 nautical miles as Men of the Sea.
View Profile