A Day in Tortola on board a Luxury Superyacht
Tortola is the largest and busiest island within the archipelago of the British Virgin Islands. The area is steeped in history with famous navigators like Christopher Columbus and pirates such as Blackbeard and Captain Kidd who once claimed Tortola as their base.
Formed by volcanic activity, it is no surprise that Tortola and its surrounding counterparts are lush, fertile and green. When chartering a superyacht, anchor off in Tortola for a day to unleash your inner buccaneer. Here Captain Sputh of the 52m/178' Benetti-built charter yacht MY STARFIRE provides his five must-do activities while enjoying a superyacht vacation in Tortola.

1. Smuggler's Cove Beach
What is an island getaway without spending some fun on the beach? Smuggler's Cove Beach is the perfect place to head to if you want to relax on white sands amidst a calm and tranquil atmosphere. You will not find groups of noisy camera-touting tourists here. The fact that this beach is relatively remote is why not many people choose to head over. Although there are no lifeguards on duty, snorkeling and swimming is fine so long as you do not stray too far from shore.
2. The Tamarind Club
This intimate hotel features a gorgeous swim up bar, restaurant and lounge. Located on the northeastern side of Tortola, the hotel offer eight stunning rooms. If you want to spend the night on land instead of on your luxury yacht, then this is the hotel to head to. Not only are the amenities and facilities excellent, the Tamarind Club also boasts a wonderful restaurant. If you can, try to make it for the Sunday Brunch. This is when the locals are on-site.

3. Brandywine Estate Restaurant
Located on the stunning grounds of the Brandywine Estate, the restaurant is located on the southern coast of the island. The garden setting is a welcoming place to dine at as the sea breeze and stunning view of the Sir Francis Drake Channel are simply magical. Open for lunch and dinner everyday expect for Tuesdays, the restaurant features a menu of local and international flavors. Try the Fresh Basil Bruschetta & Tapenade, finely chopped olives, capers and anchovies in olive oil. The Tuna Tartar is also a must-try. For your main course, enjoy the Paella, the restaurant's signature dish.
4. Callwood Rum Distillery
If you love rum, or if you are curious about how rum is made, then this is the place to head to. This historic rum distillery is one of the last of its kind in the Caribbean so do not miss out on the chance to check it out. The highlight is of course being able to step back in time to enjoy old-world charm and to sample the different types of rum. Take home a bottle or two of the island's delicious sugar cane rum for cocktail hour on board your superyacht.

5. Rhone National Marine Park
Head over for some spectacular diving. A famous dive site is the one with the HMS Rhone wreck, a mail ship that sunk in 1867 during a massive hurricane. This fascinating wreck dive spot is hailed as one of the best in the Caribbean and you will come across massive rays, turtles, coral and an array of reef fish. You can swim through a part of the ship and the stunning array of marine life that call the wreck home makes it great for underwater photography.
Bio: Captain Carl Sputh spends the majority of his time at the helms of MY Starfire, a 178' superyacht for charter. When ashore, he enjoys traveling the world, driving his custom Triumph motorcycle and learning to fly helicopters.

See our full guide a photo tour of the Caribbean and contact your yacht charter broker for advise on itinerary options.
caribbean PHOTO TOUR (24 Pictures)
Article by: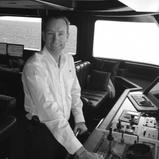 Superyacht Captain, Starfire Yacht
The Captain, Maestro, and Keeper of STARFIRE
STARFIRE's Captain was born into yachting. His first words were "Danforth Anchor". Carl, his Dad and his Brother have a combined 840,000 nautical miles as Men of the Sea.
View Profile